Standard + cooking course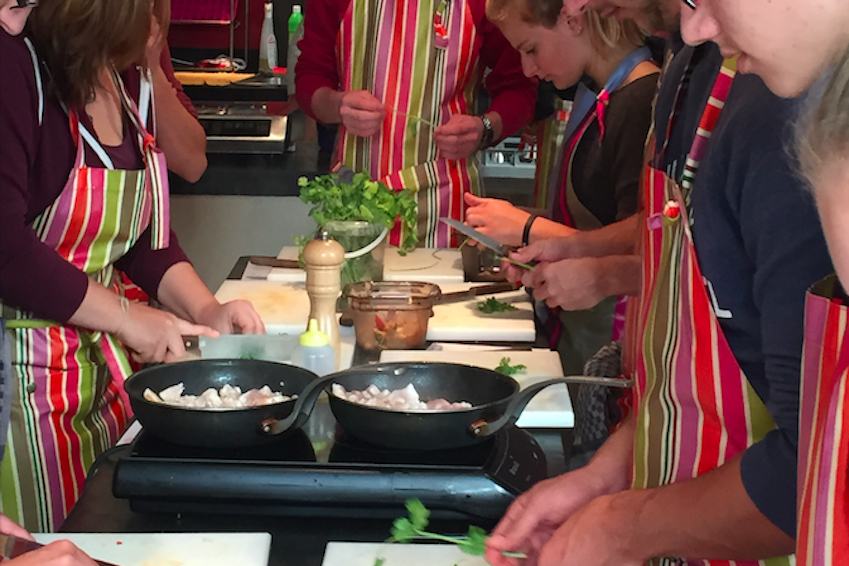 28 lessons

21 hours
---
Learn French and discover French cuisine with a Chef.
starting at 360€/week
---
STUDY AT EACH LEVEL
Standard + cooking course
Teenagers
You will perfect your level of French and learn to cook.
The French cuisine course is provided by a passionate Chef who will allow you to discover his techniques and the products of the region. You will cook and sample what you have prepared.
The Chef will issue you with a certificate and his recipes.
Lesson duration
45 minutes
Timetable
Morning: French course 20 lessons
Afternoon: 8 cooking lessons, 2 lessons twice a week
N° of students
Morning: 6 – 12
Cooking lessons: 9  maximum
Levels
All levels. From beginner to advanced (A1 to C2).
Start of classes
Every Monday.
Beginners: first Monday of the month, or upon request.
Programme available throughout the year, except for from the 23rd to the 29th of April 2018 – from the 30th of July to the 19th of August 2018 – from the 15th of December 2018 to the 6th of January 2019.
Entrance test
A teacher evaluates your oral and written competences and you join the class of your level.
Training certificate
At the end of the stay, you will receive a certificate indicating the type of course taken, its duration and the level obtained in accordance with the Common European Framework of Reference for Languages of the Council of Europe.
Opening
04/01/2021 – 17/12/2021
Public holidays
05/04/2021 – 13/05/2021 – 24/05/2021 – 14/07/2021 – 01/11/2021 – 11/11/2021
Morning classes: two hours are made up for one afternoon of the week.
Afternoon classes: courses are totally made up.
hébergement
Choisissez votre hébergement avec votre programme
Host family
Families are carefully selected based on the accommodation quality, in terms of comfort and location. There are used to receiving foreign students and adapt to their specific requirements.
Options: breakfast – half-board – full-board – kitchen access
activités
Un excellent complément à votre formation linguistique